Experto solar fuera de la red - Solarker
Cassette Type Solar Air Conditioner 24000BTU 2Ton R32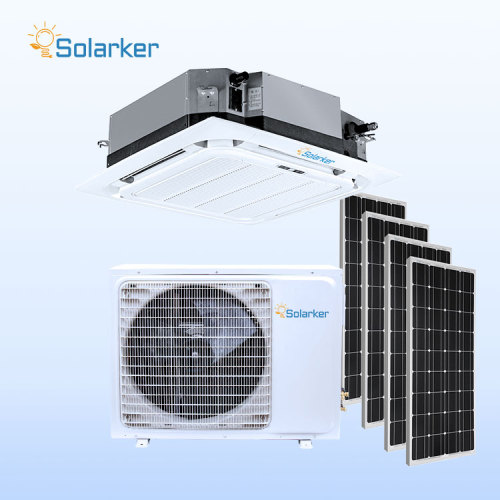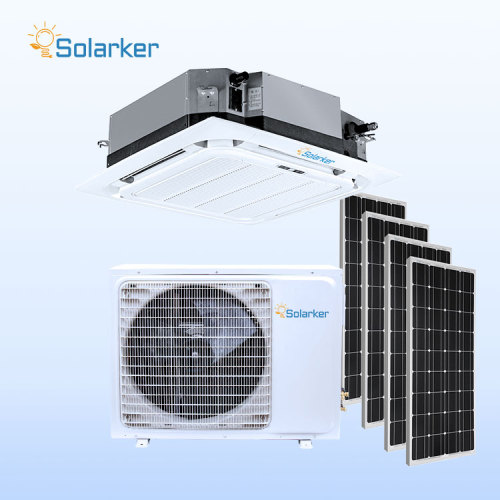 | | |
| --- | --- |
| Categoría | Solar Air Conditioner |
| Marca | Solarker Hybrid ACDC Solar |
| Modelo | SKCa-ACDC-24KR2 |
| Rated Cooling Capacity | 24000(6100-26600 BTU |
| Rated Cooling Power Input | 2000(300-2500) W |
| Rated Heating Capacity | 7000(1800-7800) W |
| Rated Heating Input Power | 1900(300-2200) W |
| Grid AC Power | 220V/50-60HZ (140-300V Wide Range) |
| Solar DC Power Vom | 80-380V DC(By Solar Panel) |
| DC Inverter Compressor | Panasonic Twin Rotary DC Inverter |
| MPPT Solar Controller | Built-In |
| Working Temperature | -10 to 58℃ (T3 Tropical) |
| Bajar DOC | |
| Tiempo de Actualización | 2023/9/29 |
Solarker Hybrid AC/DC Solar Air ConditionerSKCa-ACDC-24KR2  2.0Ton
Solarker is one of the leader Solar Air Conditioner Manufacturer of China, Solarker hybrid solar air conditioner use full DC inverter compressor, full DC motors, utilizes the unstable DC power generated by photovoltaic panels, does not need inverter conversion, does not need batteries or AC grid power stand by to balance, and directly supplies DC power to the compressor and motor, using VRF frequency conversion Technology, the operating frequency of the compressor and DC motor varies according to the solar panel output DC power to achieve a stable operation state.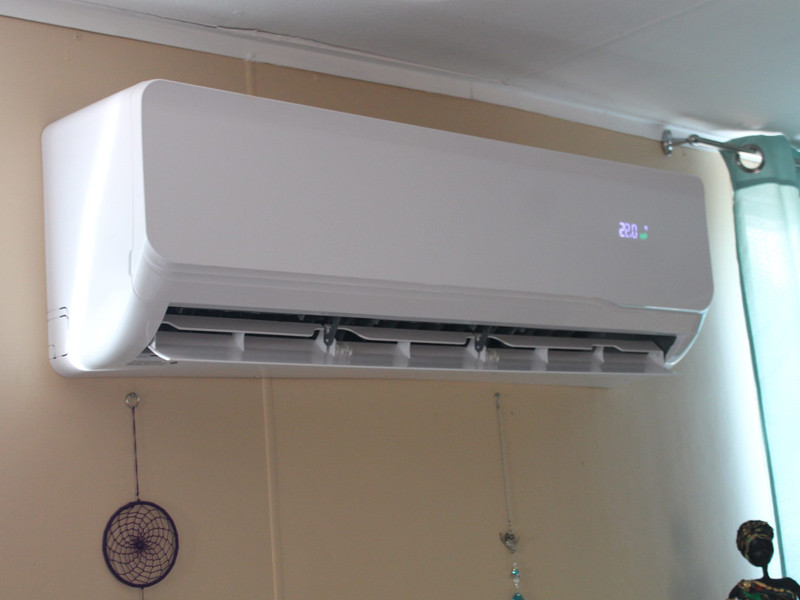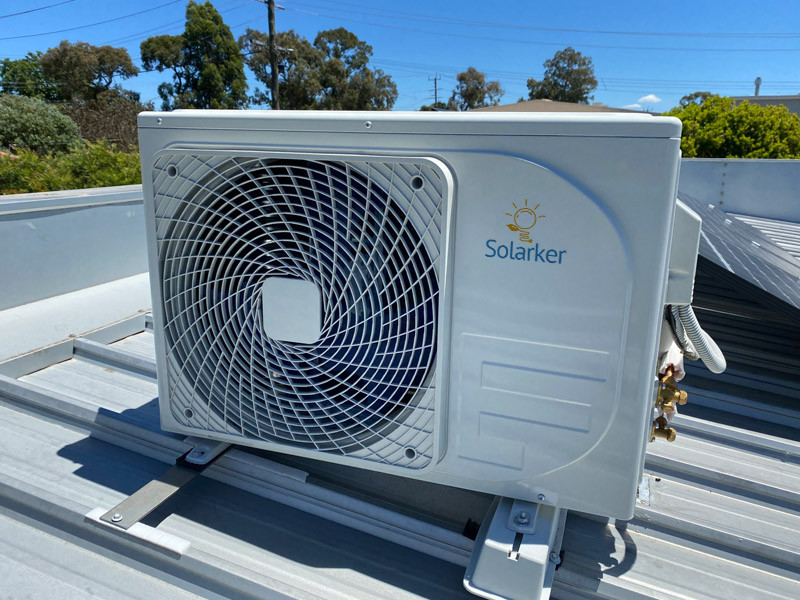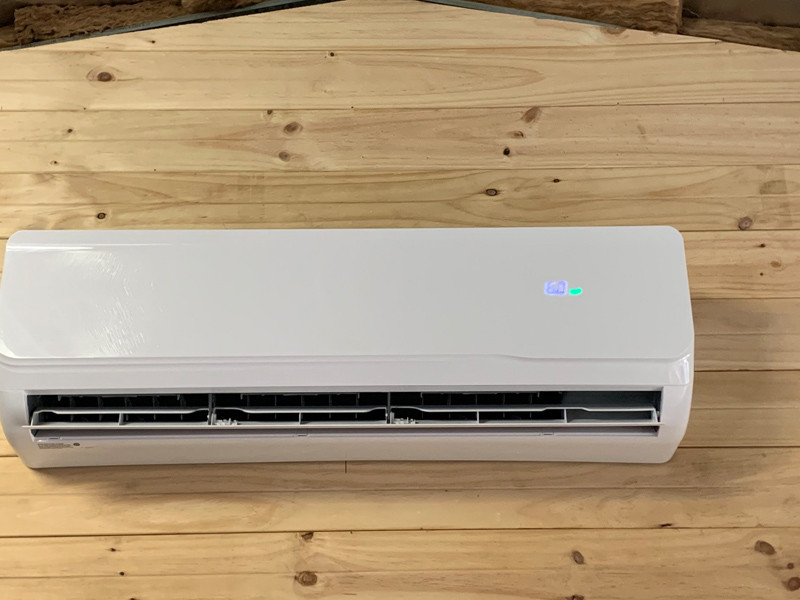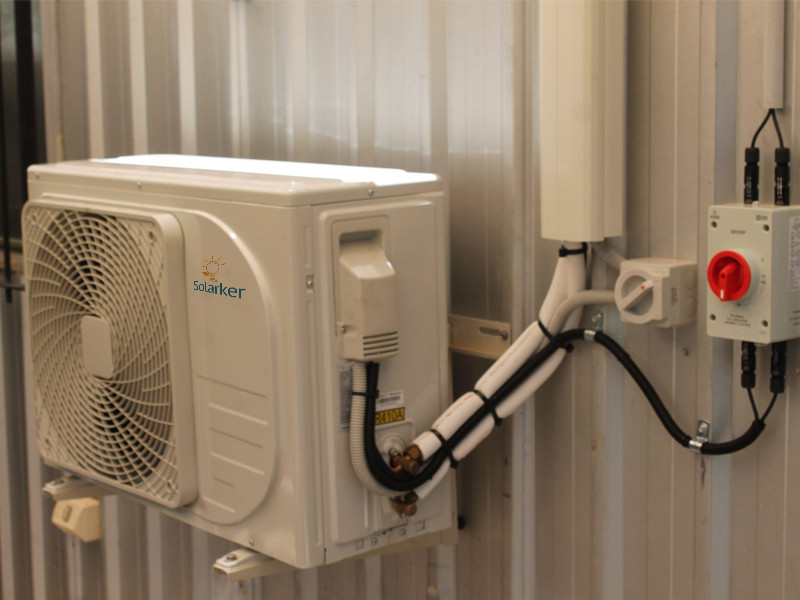 About Installation
Hybrid AC/DC Solar AC uses a built-in MPPT booster 
controller, which is very easy to install. Install the indoor unit and outdoor unit just like ordinary air-conditioning installations, connect to the grid power through L/N terminal or solar panel DC
 power through MC4 connectors from the outdoor unit, and the air-conditioning can work normally.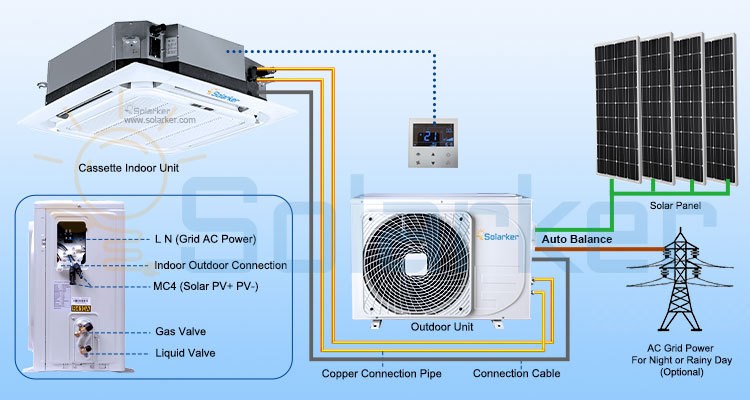 How does Solarker Hybrid ACDC solar air conditioner works
Solarker Hybrid AC/DC solar air conditioner does not require batteries or solar inverters. Under normal daylight conditions, the DC inverter compressor is directly driven by the solar DC power 
generated by 3-8 solar p
anels to cool or heat according to the set temperature. At night or in rainy days, when the solar light is insufficient, the air conditioner will automatically calculate and obtain insufficient electricity from the grid power to work, automatically balance the grid AC and solar DC electricity, and make the system run stably throughout the day.
Differences between Solarker Hybrid AC/DC solar air conditioners and ordinary air conditioners
1. Hybrid AC/DC solar air conditioner must use DC Inverter Compressor and BLDC motor
2. 
 Hybrid AC/DC solar air conditioners u
se the twin rotary inverter compressor to ensure that the noise and vibration of the external machine are small and the energy efficiency is excellent.
3. 
Hybrid AC/DC solar air conditioner get s
maller starting current: 1-3A, wider voltage operating range: AC 80-290V
4. 
Hybrid AC/DC solar air conditioners use
 EEV to precisely control refrigerant flow, high efficiency and energy saving
5. The solar MPPT module electronic control board must be connected to the compressor and motor and communicate
6. Improved PV DC safety protection
7. Improved fault code warning and after-sales service code for easier service
8. Both Grid AC power and Solar DC power need to be powered from the outdoor unit
9. Statistical data display of solar DC solar power and AC grid power consumption(Solarker get from the mob APP)
10. Even if it is not connected to solar panel, it is only necessary to achieve ultra-high energy efficiency in the Grid AC mode to achieve the greatest energy saving purpose
11. Only solar power in day time the unit works stable without grid power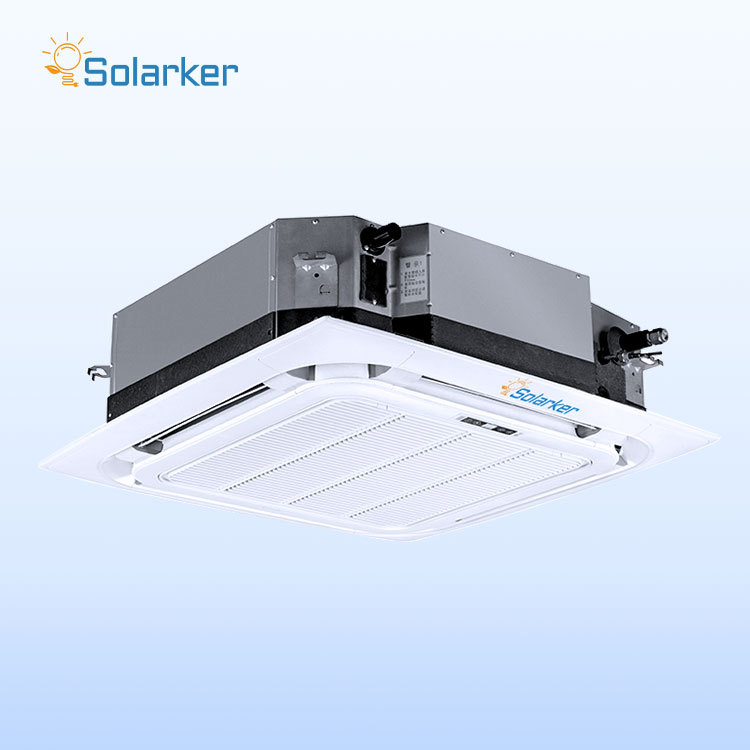 | | | | |
| --- | --- | --- | --- |
| Model Name | Unit | SKCa-ACDC-18KR2 | SKCa-ACDC-24KR2 |
| Climate Type | / | T1 & T3 | T1 & T3 |
| Application Area | m2 | 20-40 | 30-60 |
| Grid AC Power Type | / | 220V/50-60HZ | 220V/50-60HZ |
| Solar DC Power VOM | Vdc | 80-380 | 80-380 |
| Solar DC Power VOC | Vdc | <=390V | <=390V |
| DC Power Current IOC | A | <=12A | <=12A |
| Suggest Solar Panel | Pcs | 5* 440W | 7*440W |
| Rated Cooling Capacity | Btu | 17500(4100-19800) | 22000(6100-25000) |
| Rated Cooling Power Input | W | 1350(220-1700) | 1790(300-2450) |
| Rated Heating Capacity | W | 5180(1200-5300) | 7330(1800-7600) |
| Rated Heating Power Input | W | 1350(220-1400) | 1950(300-2050) |
| EER | W/W&BTU/W | 3.67/12.50 | 3.60/12.28 |
| Compressor | / | Highly Twin Rotary DC Inverter | Panasonic Twin Rotary DC Inverter |
| Indoor Body Dimension | mm | 840×840×240 | 840×840×240 |
| Indoor Body Packing | mm | 920×920×320 | 920×920×320 |
| Indoor Panel Dimension | mm | 950×950×45 | 950×950×45 |
| Indoor Panel Packing | mm | 1000×1000×100 | 1000×1000×100 |
| Indoor Body Net/Gross Weight | Kg | 24/28 | 24/28 |
| Indoor Panel Net/Gross Weight | Kg | 5/7 | 5/7 |
| Outdoor Fan Motor | / | BLDC-55W | BLDC-75W |
| Outdoor Unit Dimension | mm | 802×564×323 | 900×700×337 |
| Outdoor Unit Packing | mm | 910×622×405 | 1006×755×418 |
| Outdoor Net/Gross Weight | Kg | 37.0/42.0 | 46.5/52 |
| Refrigerant type | / | R32 | R32 |
| Refrigerant Pipe Size | Inch | 1/2  1/4 | 1/2  1/4 |
There is many special features of Solarker hybrid ACDC solar powered air conditioner such as: AC/DC solar power meter data from APP, AC power 3 stages limitation, RS485 control, pls check details below: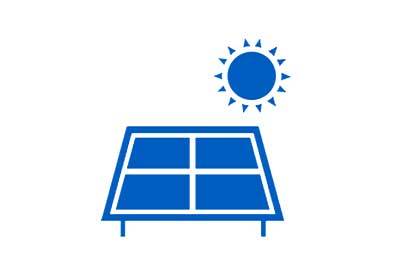 100% Solar Driven-Off Grid Work

Pure solar DC power driven DC compressor and motor in the day without grid or battery backup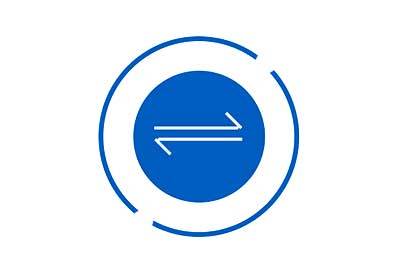 Auto Balance AC and DC Power

Always solar DC priority, AC/DC auto balance when cloudy days with grid power stand by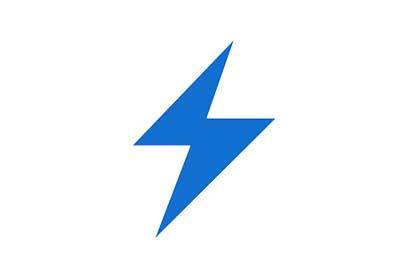 VMP: 80V-380Vdc
VOC: 390Vdc
ISC: 13A(Over 13A no damage)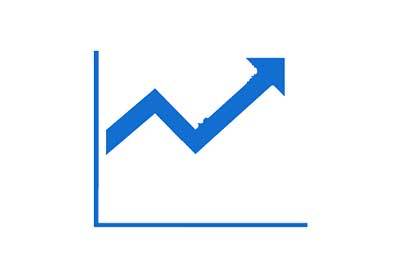 MPPT High Tracking Efficiency

MPPT tracking efficiency can reach 99.9%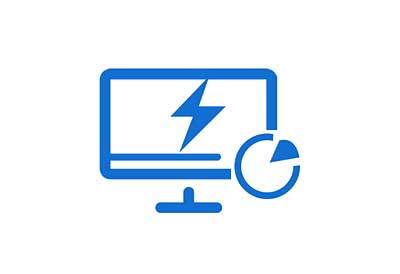 High Solar Safety Protection

PV input lightning protection
Residual current monitoring unit
Output over current Protection
Output over voltage Protection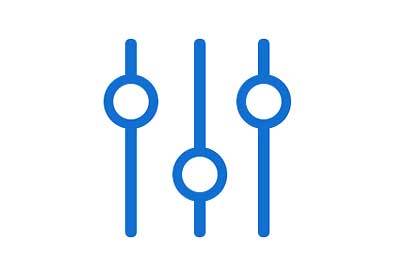 Built-In MPPT Solar Controller

The Solar Mppt Booster build inside the outdoor unit with air condtioner outdoor controoler. No need extra solar inverter installation.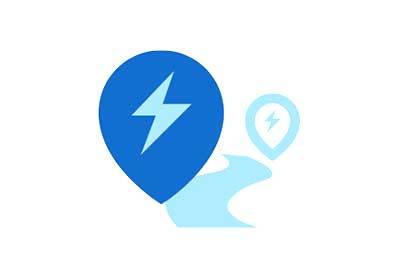 MC4 Solar Panel Connector

Outdoor unit with MC4 connector to easily connect solar panel PV+ and PV-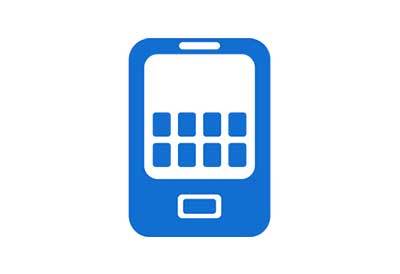 Check solar power data and AC power consumption history data by app anytime anywhere. Easily know how much saving energy everyday.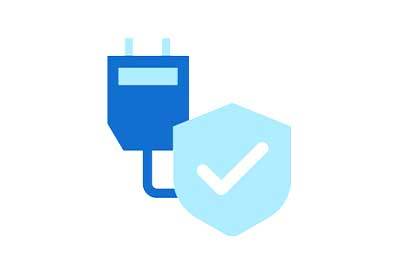 3 Stage Grid AC Power Limiter

Limit the air conditioner AC power input consumption by 25% 50% 75%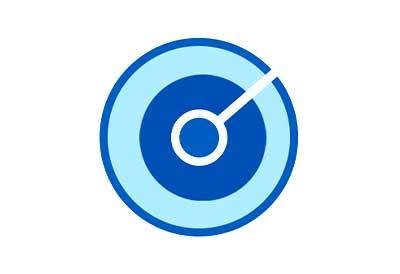 LED display with DC Solar 

Air conditioner indoor unit display light board displays Solar/Grid power working status.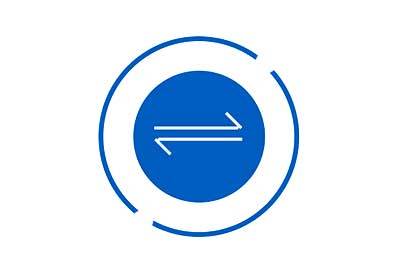 Auto Restart Next Morning
Air Conditioner will automatically restart itself when the solar return in the morning next day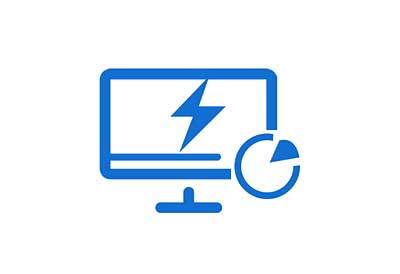 RS485 Communication
Air Conditioner indoor unit capable with RS485 communication connector to control the unit. 
DC Inverter Air Conditioner Features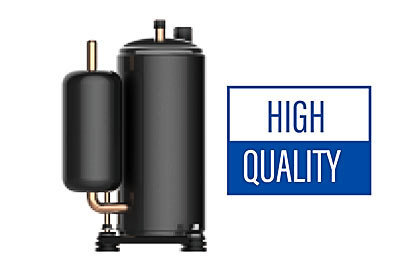 Twin Rotay DC Inverter Compressor
High Efficiency, low noise level, stable working, longer life design. Powerful Cooling.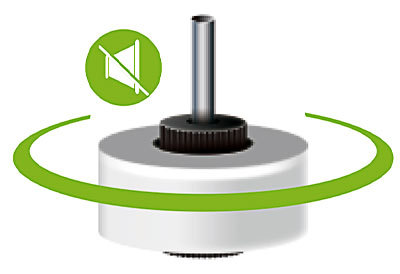 Low Noise DC Motor

DC fan motor, higher efficiency and accurate control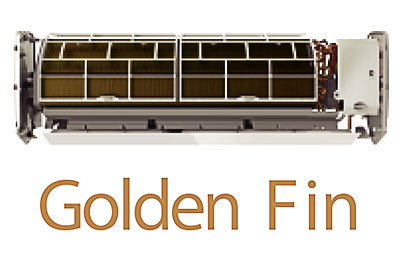 Golden Fin Evaporator and Condenser
Golden Fin is more resistant to oxidation and corrosion than ordinary blue fins of most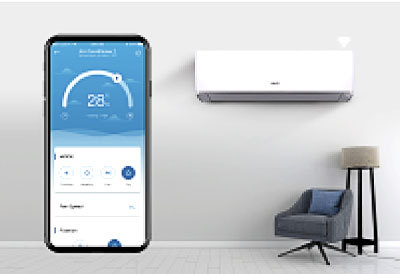 WiFi Remote Control
WIFI connection to the air conditioner and control anywhere and anytime through mobile APP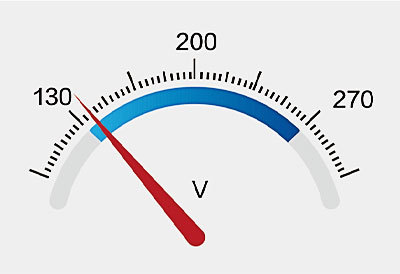 Wide Grid AC Voltage
With DC inverter compressor and the self-developed electronic control system, the air conditioner can be started and operated normally under a voltage between 130 and 280V in order to solve the problem of unstable voltage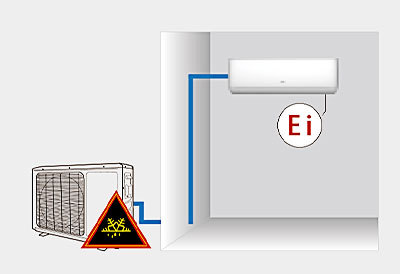 Fault Code Indicate
When the machine operates with problems, display section will show the corresponding fault code to make after -sales service convenient and prompt.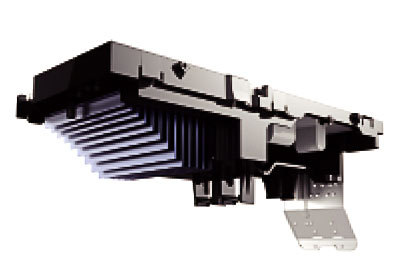 Labyrinth PCB Cooling Radiator
Outdoor inverter electric control box uses labyrinth design, and proved by 2H rainstorm simulation test, it won't get wet even in the typhoon day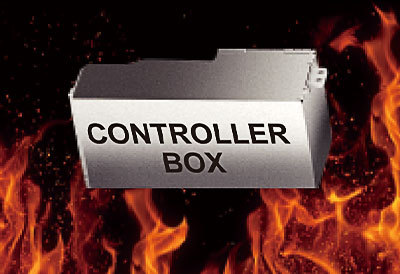 5VA security controller Box 

The highest level of fire-proof materials are adopted to protect the internal electronic control components, and prevent fire due to internal and external factors upon an accident.
DC Water Drain Pump
Use Dc type water drain pump to make sure the high efficiency and off grid DC work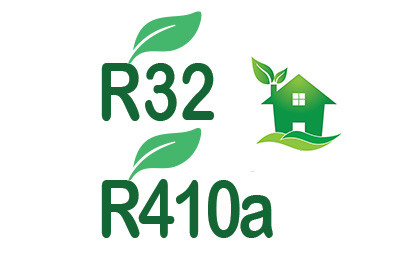 Environmentally Friendly Refrigerant
R32 or R410A refrigerant can be selected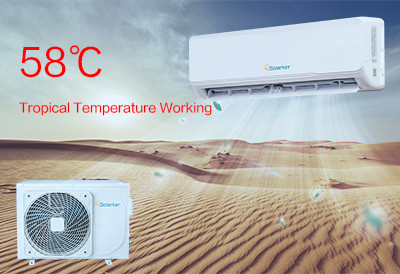 58℃ Tropical Temperature Working

T3 System, High EER level design, the unit works under 58 degree middle east tropical temperature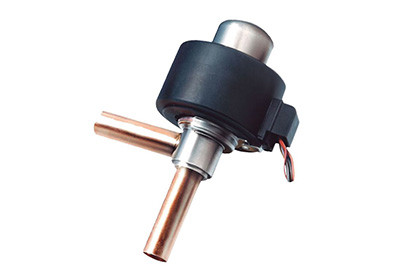 EEV Accurate Refrigerant Control
System with EEV control the flow of refrigerant, reach higher energy efficiency level
Póngase en contacto con nosotros en cualquier momento para obtener una muestra o probar el pedido de cualquier producto solar